If the Movie/Episode does not load, please try Refresh few times. If it still get error please try our Alternative Server by clicking the Three dash button in the right top of Player. Happy watching!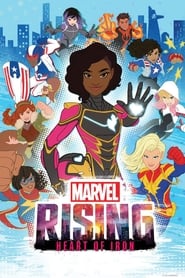 Marvel Rising: Heart of Iron
Ironheart, AKA Riri Williams (voiced by Sofia Wylie), who is having difficulty adjusting to college life as the youngest student there then the college's engineering lab is demolished by an alien and kidnaps her best friend. Inspired by Iron Man, she develops a plan to save her friend. The special will also feature appearances by Iron Man (voiced by Mick Wingert) and a new character named A.M.I. (voiced by Melanie Minichino).
Duration: 44 min
Quality: HD - English Sub
Release: 2019